The Black Saddle, episode Client: Neal Adams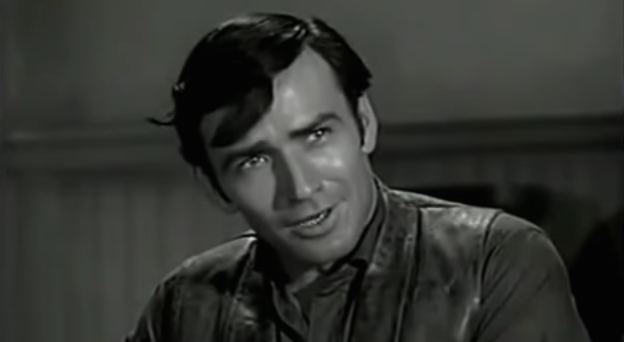 The Black Saddle TV show starring Peter Breck was one of the many black and white western shows from the 50's. Clay Culhane (Peter Breck) is a gunfighter turned lawyer.
This episode, Client Neal Adams, is from 1959.
Synopsis:
A bleeding cowboy, Neal Adams (James Drury), stumbles into Clay Culhane's office, an old friend he hasn't seen in years, and claims to have been shot by a vengeance-seeking man who is trailing him. Clay is delighted to see his old friend, and agrees to help him hide out, but is puzzled at Neal's insistence that he doesn't want a doctor. Clay and his sweetheart pull the bullet out of Neal and let him bunk in the back room of the office.
Then Clay discovers a wanted poster that tells another tale, proving Neal a wanted man. He's left with a moral choice to face; either standing by his friend or turning him in to the Marshal.
And what if it comes to gunplay? Would he be willing to gun-down an old pal over a simple robbery? Is his duty to his friend or to justice?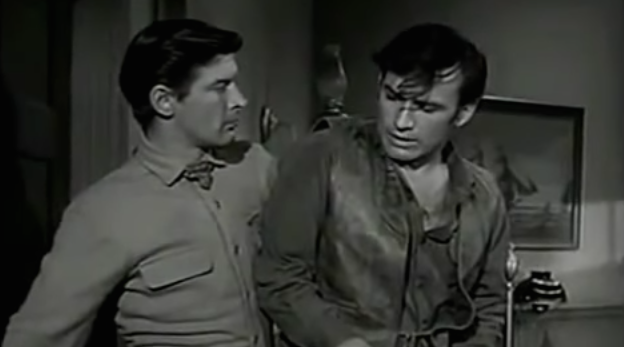 This episode is nothing noteworthy in the world of western TV shows. It's only 30 minutes, low budget, and simple.  But it is a classic tale of moral tests and a good man whose choices are grounded on right–not his desires or feelings.
That's a very common theme in westerns.  A man faced with a dilemma who has to stand up with boldness and choose to do right despite his personal desires and the painful repercussions to himself and those he cares about.  Many westerns incorporate that theme in a far deeper, poignant, and telling way than this show.  Though the theme is well present in this simple episode, it's not fully developed as in your typical "A" western film.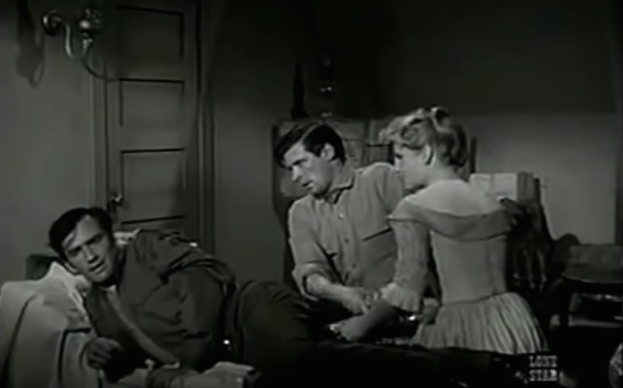 For me, as a Virginian enthusiast, 25-year-old James Drury was one of the most enjoyable parts of the show.  I loved getting a chance to see him in this sort of a role, which he pulled off splendidly. I enjoy watching a western actor play an uncustomary character type. When you've seen an old western actor play a good guy in his own TV show or films, it is always amusing to see him take on a bad guy persona (though it's hard when a favorite takes on a mean role, like John Wayne in Red River!).  It's fun to see how far the skills can stretch–just how many character types they can cover and still be believable. I actually think James Drury was more believable in this role as Neal Adams than in many of the episodes of The Virginian.
Quiet, dark-haired, and with a half smile covering his pain, he is the picture of a gunfighter. Neal Adams in this episode reminds me of the characters in Louis L'Amour's short stories, and it's some of James Drury's acting at it's best.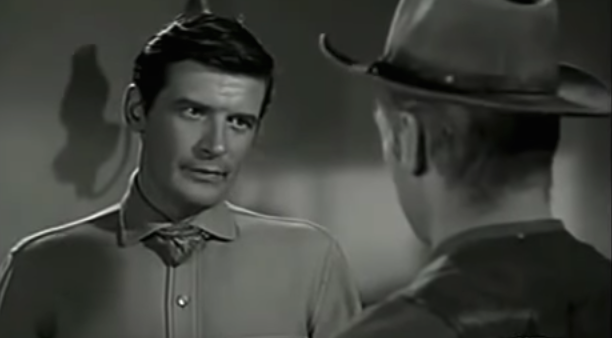 Peter Breck is also fun to see in his starring role, he is a far cry from the hot-tempered, shouting, fighting "Nick Barkley" that most of us know him as.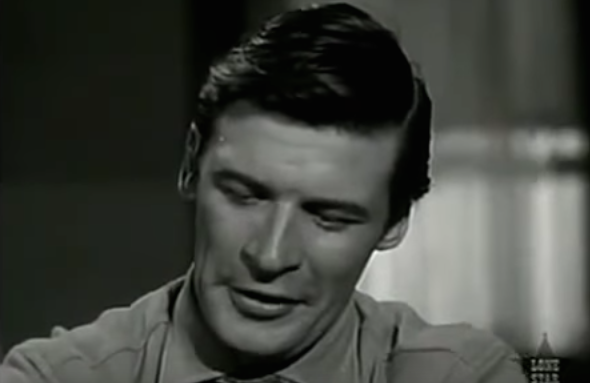 The scene of him "operating" on Neal Adams with his unusual method for dealing with his patient's pain, and a smile on his face would lead me to question, as Neal did:
"Had much experience along these lines, Clay?"
It's a fun scene.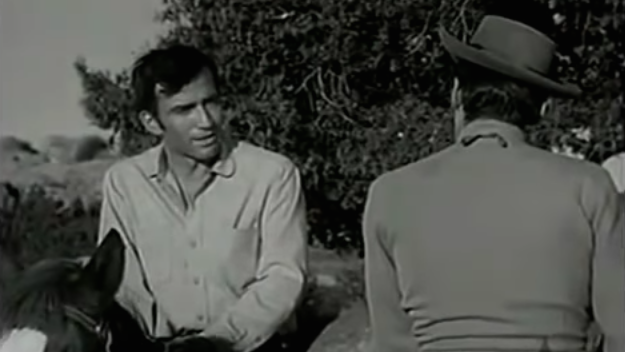 All in all it is, as I said, nothing noteworthy in the world of western episodes.  But it is a simple, solid story of good guys triumphing over bad guys.
And for all the James Drury and Peter Breck fans, it's certainly worth watching.