---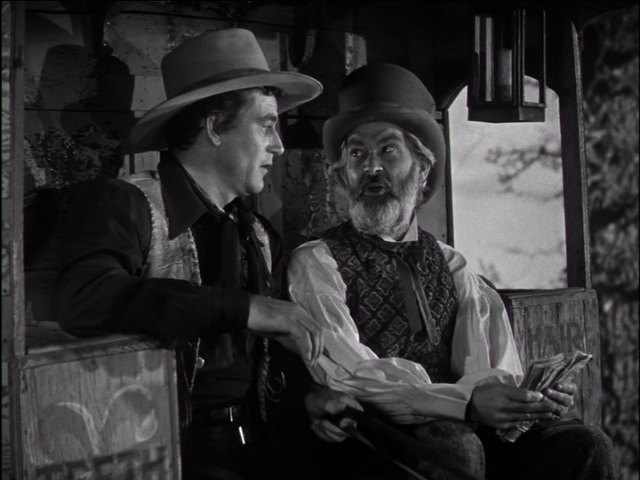 Dark Command is the tale of a manly, quote spoutin', Texan with a strong sense of justice and a desire to fight evil men and stand up for what's right.
It stars two of the rising western actors in 1940: John Wayne and Roy Rogers, and is filled with other lovable actors such as Claire Trevor, Porter Hall, Walter Pigeon, Marjorie Main, and the good ol' singing cowboy sidekick Gabby Hayes. Gabby and John Wayne had actually been acting together for years, and are so fun to see together in this A budget film after watching a lot of their B westerns from the 30's (which are quite amusing!).
Based on a book, Dark Command is a good old-fashioned western story about Bob Seton (J. Wayne) who arrives in Lawrence, Kansas with the man he is working for: Andrew the dentist (Gabby Hayes).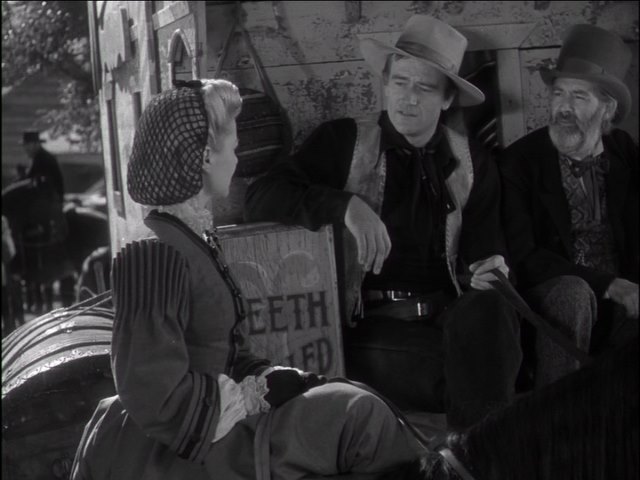 The first day in town Bob meets the pretty Mary McCloud, who he is drawn to, and her suitor William Cantrell.
Lawrence is rampant with murders and a campaign is underway to elect a marshal. Bob and Cantrell become rivals for the office as well as the girl. A fistfight over the issue of free speech gets Bob acquainted with Mary's brother Fletcher (Roy Rogers).  Things start to get challenging as Fletcher gets into a mess of trouble and Bob is thrown into a tough moral choice of loosing the girl he loves or doing his duty regardless of her and her family and the loss of all their respect.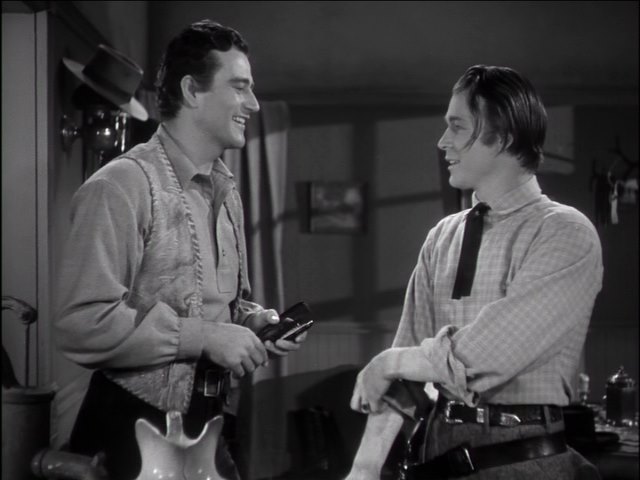 As if that weren't enough, Bob is thrown into more challenging choices and has to take action against his friends. Add in a national war, murder, gun runners, guerillas, a bank run, and plenty of bad guys and you have a story that was nominated for two Academy Awards.
I enjoyed this film for several reasons. First it is a classic old western that is a story about morals, character, and good triumphing over evil.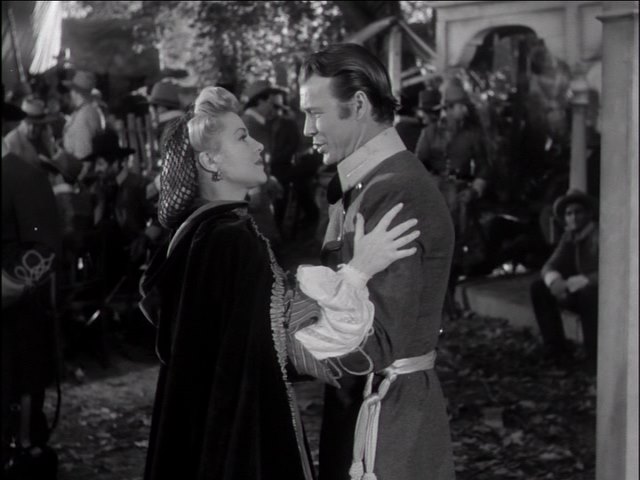 Secondly, it was great fun for me (being a Roy Rogers fan) to see him play a different type of man than the usual flawless, clean, singing cowboy. He shows just what he can do when he gets a chance at an A-western.
Another great thing about it is the dialogue, and of course John Wayne's delivery of his lines. The western character he portrays, Bob Seton, is not quite like his later stereotypes, but it is one of my favorite films of his and makes a fun 90 minutes.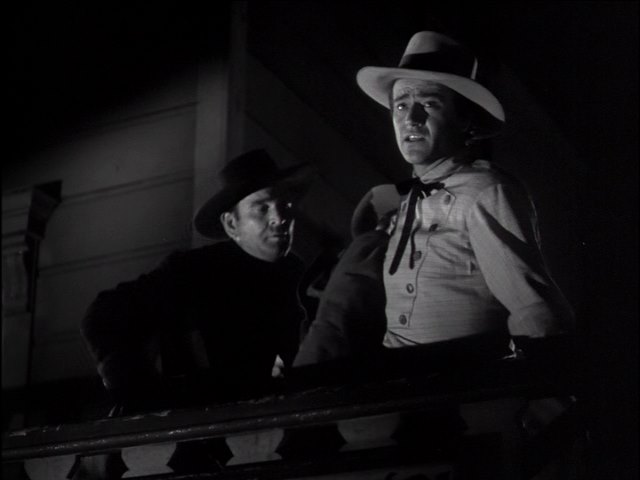 There are a couple great scenes that really stand out and make this film worthwhile. One is a scene between Bob and Mary where he is handed a staggering test that calls for integrity and courage. The other is a scene where he meets with his enemy to try to be his friend and give him the advice he needs to hear and every chance to redeem himself and do what is right. He looks out for his fellow man like every lawman ought to, and takes a personal interest in their character and the way their lives are going, and doesn't shy away at at the hard conversations. And yes, I'm being vague here on purpose, because who wants the best scenes spoiled?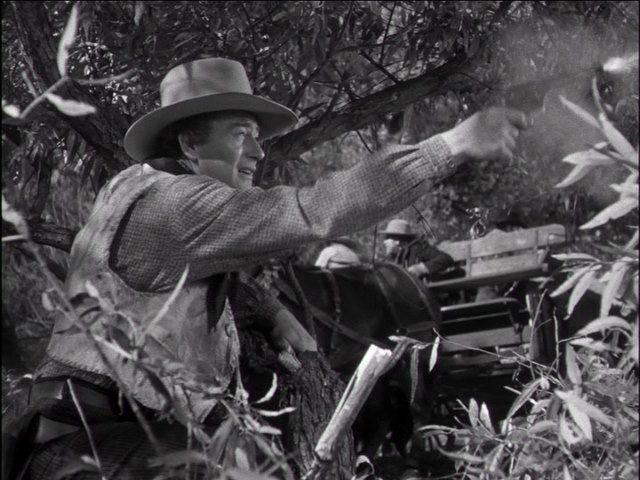 Tensions simmer steadily and little bits of humor are sprinkled thought to add to the fun as chases and gunfire round out the film.
The folks in this story are well developed and it brings them strikingly to life, leaving you rooting for them and sympathizing with their struggles and disappointments.
It is a tale of courage. Courage in the gritty, tough, moral challenges of life and in the battle for right and justice.
---
This film is in public domain, and there are many poor copies on the market and available for free.  If you are looking for a clear and good quality copy of the film I recommend this one. This review is written for The Legends of Western Cinema Week hosted by A Lantern In Her Hand and Meanwhile in Rivendale.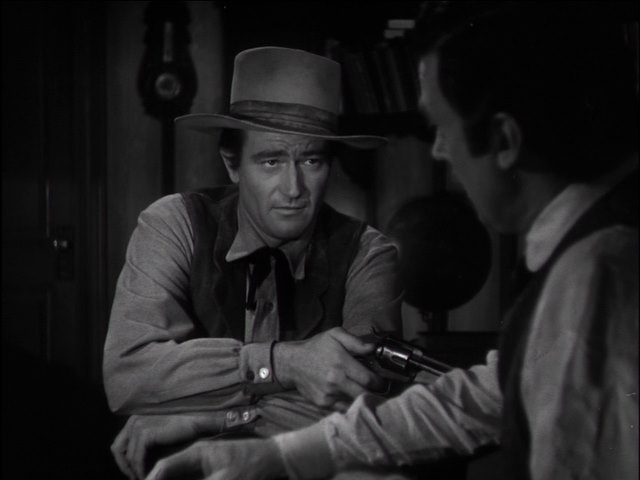 Have you seen Dark Command? What do you think of Wayne's early films? Do you have a favorite?
---