---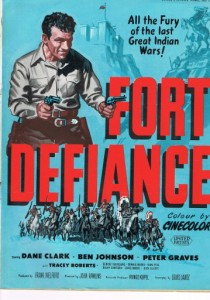 This film stars Ben Johnson, an actor who is often remembered for the films he made with John Wayne and his excellent horsemanship.
Synopsis: Ben Shelby (Ben Johnson) is a Civil War veteran who is on a quest for revenge, he is out to kill the soldier Johnny Tallon, who, through his actions caused his brother to be killed during a battle in the late war. So, living a lone life away from his wife he sets out to find him. Arriving at the Tallon's house he finds his blind brother (Peter Graves) and uncle who are desperate for help on their ranch. Through a series of events he becomes responsible for the blind man. Then, in the midst of being hunted down by killers, surrounded by Indians, and suck out in the middle of nowhere he meets the man he has searched for…the situation forces the mortal enemies to work together to save the lives of the occupants of a stagecoach, one of whom the blind man falls in love with, not knowing that she is a saloon girl on account of his blindness. Everything comes to a climax and ends— like a western— in a gunfight.
This film is not terrible, but neither is it great. At the end of the 72 minutes I almost found myself wishing that I had re-watched an old favorite instead as this one almost seemed a waste of time. The highlights of the film were:
~Ben Johnson (of course)
~The dialogue of Johnny Tallon (Dane Clark) during the second half of the film (especially all of his "Mr. Only Survivor" lines!)
~The good acting, delivery, and clothing of  Dane Clark which made him look and sound like a Gene Autry double!
The weakness of the film consisted of:
~poor dialogue for most of the characters
~very weak storyline
~undeveloped characters
~poor film quality (though there may be better copies out there that the one I saw on Bob Terry's great website Westerns On The Web)
~poor costuming and tailoring, with the exception of Dane Clark's outfit
This film also has low production values. Now there are some exceptional films out there made on a low B film budget (some of them among my all time favorites), but this, in my opinion is not one of them. It was nice to see it once, but I am not likely to ever re-watch it or recommend it to anyone.
---