---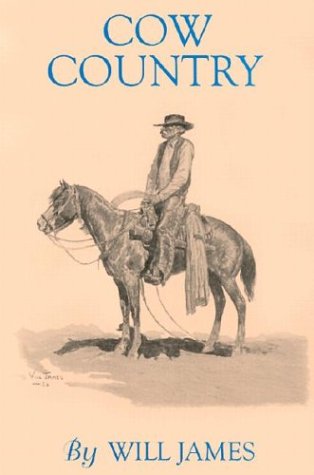 Will James is one of the most important western authors, he captured the feel, culture, work, and everyday life of the cowboy like very few men have. His works are historically significant to America as well as being enjoyable to read.
This book; Cow Country, was originally published in 1927, and is a collection of 8 stories. Like most of his books, it is technically considered fiction, although most of it is true accounts with the names and dialogue changed.
The topic these stories revolve around is the changing of the west during the first 19 or so years of the 20th century. Like all his books, it is fantastically illustrated by Will James himself, and the masterful way he had of drawing range horses, saddle-hardened cowboys, and the action of animals is far superior, in my opinion, to the famous works of Frederick Remington. When I first started my own drawing, Will James was the man I hoped to become equal to in the realm of art. Originally I purchased his books solely for the illustrations~the text made no difference at all to me!
Each of these stories was fun to read (though a couple of them were duplicates of stories in other books of his) but the story Two Old Timers was the one that the men came alive in, and that I came to know and care for the characters deeply by the end of the story. His writing makes the reader sympathize greatly with the two older cowboys who are searching for the contentment and joy they had on the idolized "disappearing" open-range country of their youth. His understanding of the way a man's mind works led to some insightful comments on the way a man looks back at the history of his life. And I found that fascinating. Unlike many authors of the time he does not glorify the past, or the old ways, simply because they were "the good old days", though you can tell the author does fondly look back on and personally favor them. The picture he paints and feelings portrayed are genuine. The stories fun and well told.
If you are expecting the typical western novel with a fast-moving main plot, heroines in distress, and gunfights you will be disappointed~and this book is not for you. It reads like a man talks, each story has the feel of a cowboy on a porch telling tales of the range country in a laid-back and relaxed manner. I've known an old horseman who talks just like this book, telling stories of horses he'd known, the way a tenderfoot was introduced to riding, and the way things have changed in 70 years ~ all while leaning on a fence staring across the fields. This book is like having that sort of a conversation. Nothing fancy or action filled, but simple, heart-felt, poignant stories of life in the American west a century ago.
---