The Odyssey Of Jubal Tanner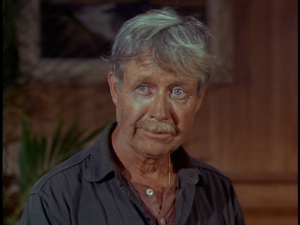 This show was originally aired on October 13, 1965 and is from the first season of the show.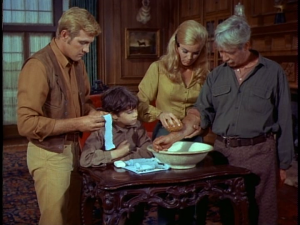 Synopsis: Jarrod and Nick Barkley are working hard to get a dam built, they finally receive approval when they offer a certain section of their land as the location, for free. Meanwhile, an old and very dear friend of Victoria Barkley's, Jubal Tanner, arrives to claim/purchase the same section of land which Mr. Barkley had promised to him many, many years ago. Victoria gives the land to Jubal, not knowing that her sons had already promised the land to the townspeople. When the town finds out they will stop at nothing to run Jubal out–either legally by eminent domain or simply by force and killing. Some of the Barkleys are all for giving Jubal a different section of land, because there are so many people in the valley who desperately need the dam built for their livelihood, while the other Barkleys are pitted against them as they are sure that Mr. Barkley's work needs to be honored and…well that would be getting close to giving away the story. Anyway, the Barkley family are split and on different sides of the question of which side is morally right and pressure is building up….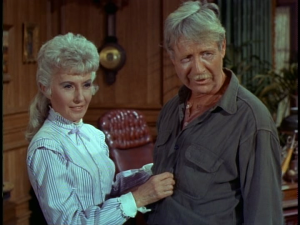 Cast:
Barbara Stanwyck as Victoria
Lee Majors as Heath
Peter Breck as Nick
Richard Long as Jarrod
Linda Evans as Audra
Arthur O'Connel as Jubal
Jason Evers as Colter
Mort Mills as Sheriff
Sheldon Golomb as Chad
Ken Mayer as Crowell
K.L. Smith as Dutton
Tom Browne Henry as Chairman
Harlan Warde as Finletter
Dick Farnsworth as Bolin
Larry Doyle as Man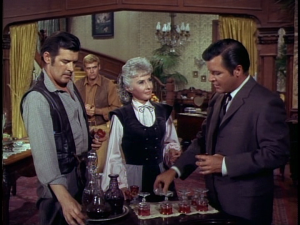 This show is about private property rights, which is one of the best elements to deal with in a western setting.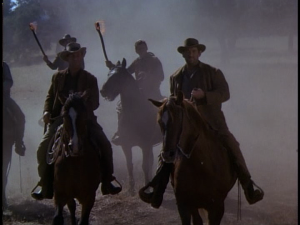 And one of the best things about it in this episode is that instead of the usual watching the story unfold as the hero stands up for the right, in this situation there are level-headed people on both sides of the issue.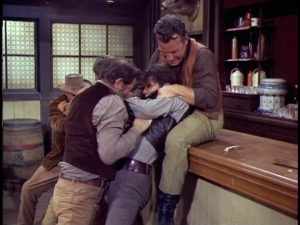 It almost forces the viewer to have to think about which side is right for themselves as they watch their favorite characters disagree on what is right, instead of having ability to lazily follow the hero with out engaging their mind.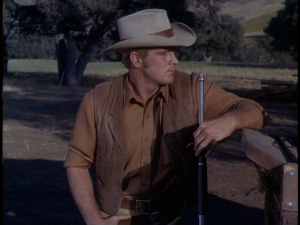 This is a great episode and fun to watch, though sad as well.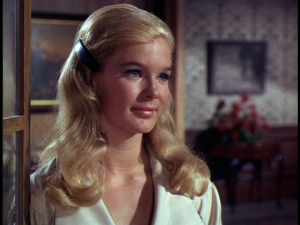 Below is a favorite quote from the episode:

"There are some who say your father's principles killed him. Well he was a man who would rather die for a principle than live without one."~Victoria Barkley

---