---
Deadeye Dick
Season 5, 1966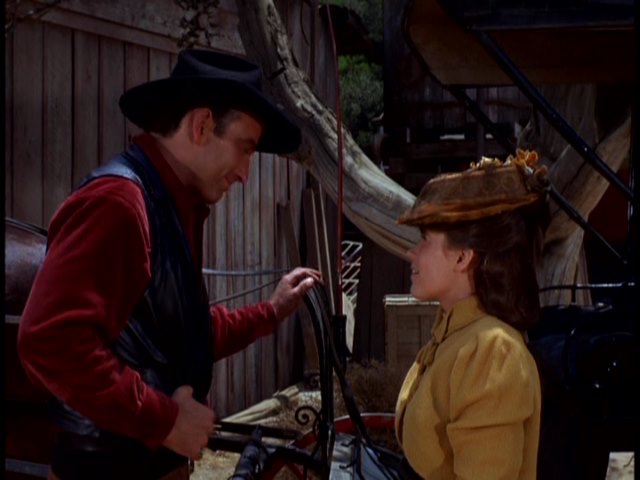 Marjorie Hammond, a 16 year-old on her first trip out west, arrives in Medicine Bow Wyoming with her Mother. She is constantly immersing her mind in cheap western romance novels and, as a result, thinks of nothing other than emotional drama and is out looking for a handsome cowboy to rescue her from danger and sweep her off her feet.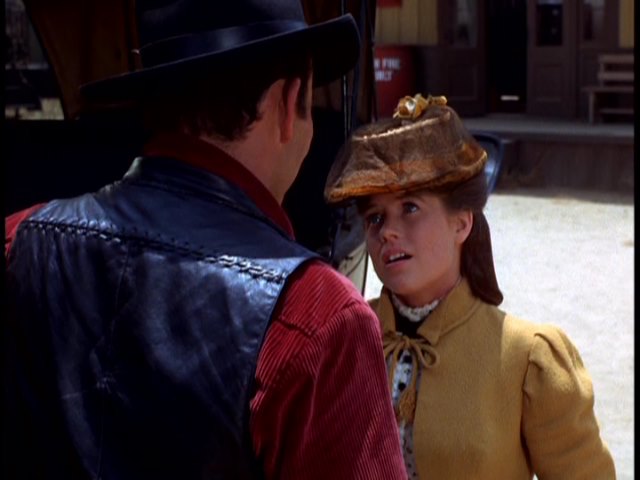 Within minutes after stepping off the train she meets the Virginian (who calms her spooked horse) and she decides he's the one.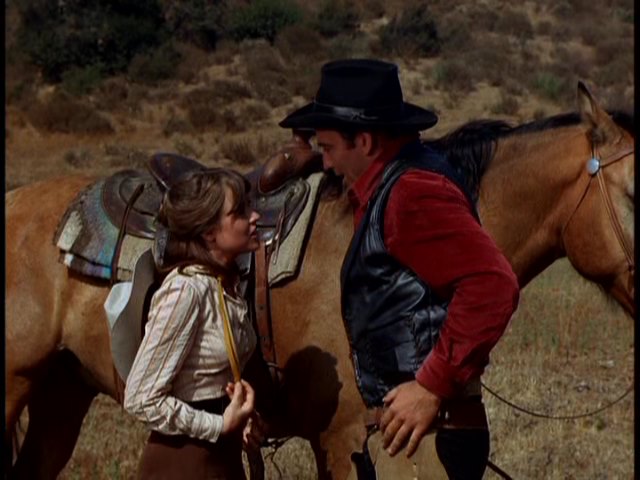 What follows is a considerable tangle as the Virginian (who doesn't like her) realizes what she is up to, AND is handed the job stopping her before she does something foolish~ by none other than the girl's own mother!
Adding to the complications are a neighbor boy, Bob Foley, who falls for Marjorie, and one of those ubiquitous western bank robberies that strikes Medicine Bow. The trouble is, Marjorie is present when the bank is robbed and is the only witness who can identify the thieves.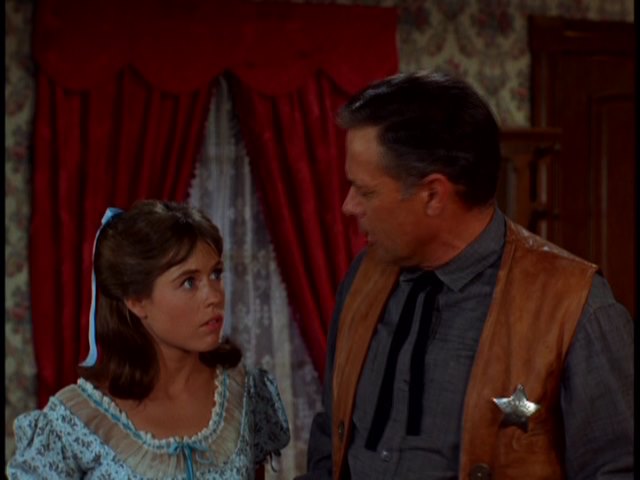 The robbers who didn't get caught are out to kidnap her before the court trial opens, and keep her from appearing to testify against their pal…and there I stop. To find out the rest you'll have to see it yourself.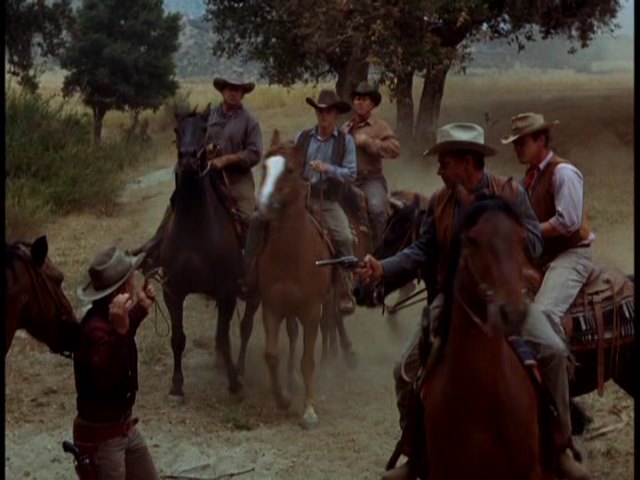 Cast:
James Drury~The Virginian
Trampas~Doug McClure
Charles Bickford~Mr. Granger
Don Quine~Stacy Granger
Sarah Lane~Elisabeth Granger
Alice Rawlings~Marjorie Hammond
June Vincent~Lucille Hammond
Patricia Donahue~Aunt Libby
William Schallert~Tom Foley
David Macklin~Bob Foley
Holly Bane~Bank Robber
Chuck Courtney~Blake
Ross Elliot~Sheriff Abbot
and…Simon Scott, William Phipps, Dennis McCarthy, Ollie O'Toole, and Walter Woof King
This episode is not one of my favorites, not that it's terrible, but it's nothing exceptional or noteworthy. It is the same old story of a dreamy young girl who has a crush on an man who doesn't care for her. While that story pops up in numerous western TV shows, Little House On The Prairie specialized in many of those plots regularly and probably wins the prize for having the most.  Said plots are generally silly and repetitious at the best. This one was better than most and made a good connection between between a girl's choice of literature/what she immerses herself in, and her imagination, emotions, common sense, and perception of reality and the real world. But still it wasn't anything really great. Oh, and there are a few mistakes/goofs in this episode…
The thing that I found so interesting about this episode had nothing to do with the story and everything to do with the storytelling. It struck me how much difference a director makes, even in a TV show. I have watched a LOT of Virginian episodes with many different directors and I find it fascinating how the director has such a profound influence on the quality of the storytelling.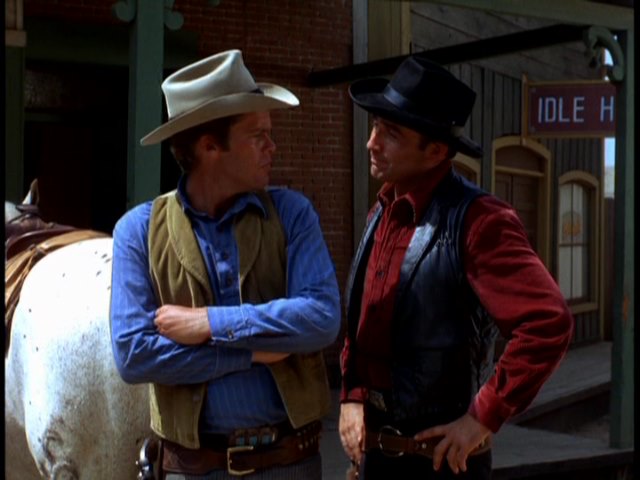 A good director can take a script, and with their storytelling skills and ability to communicate their vision to the actors and bring out the best in them, can make even a weak script amount to something. Whereas a poor director can make even a grand script flop.
When Deadeye Dick started and I saw the director's name, Ida Lupino, I got interested. The Virginian had many directors every season; both great and poor, but Ida Lupino was one of those who knew her craft and was known for getting quality acting out of the folks on set. In watching the episode and paying attention to the storytelling and acting (even with the mediocre story) it was interesting to watch the regular cast that I know so well by now, and to contrast their acting to the other shows they made with the different directors. There is a noticeable difference, but it has taken me a while to pick up on it and learn the directors' individual names and styles.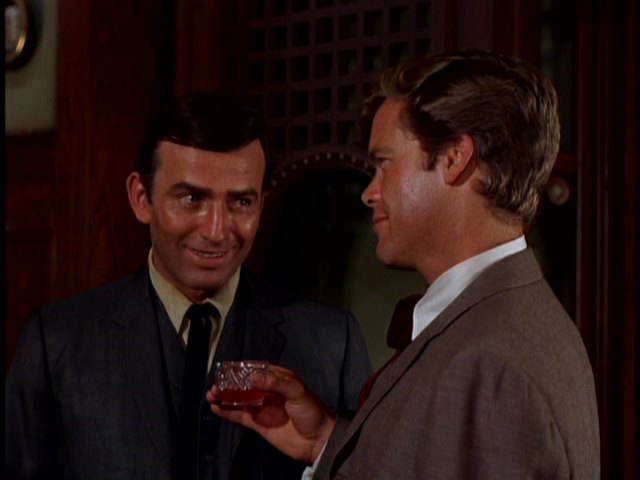 The other fun thing about this show was, as always, Trampas and the Virginian's interaction and how they played off each others' characters. It's no wonder that they were the only two of the original cast that stayed for all 9 seasons, as their camaraderie is one of the things that makes the show what it was. No matter if they were in town, at a dance, working at Shiloh, riding the range, tracking outlaws, or at the bunkhouse they made a great team.
There is a lot of grand scenery and beautiful wide-open spaces in this show. So many of the westerns in the 50's used studios for many of the exterior shots, and it's so nice to see real range land and mountains in The Virginian!
Have you seen Deadeye Dick? What are your thoughts? Do you have a favorite episode on season 5 of The Virginian?
---