---
Siege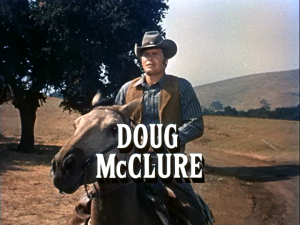 This episode from season two is one of my all-time favorite Virginian shows. The story itself is as classic a western story as you can get: a town is under the rule of evil men, the a man with courage, or in this case two men, stand up against the evil and fight for justice.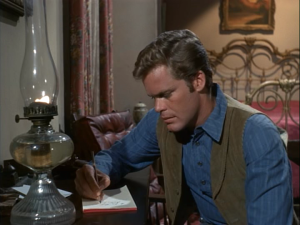 The main character of this show is Trampas (Doug McClure). Others in the cast are:
Philip Carey as Duke Logan
Elinor Donahue as Carole Cole
Ron Hayes as Marshall Brett Cole
Joseph Campanella as Pedro Lopez
Nestor Paiva as Charley Sanchez
Myron Healy as Yance Cooper
Thomas Bellin as Sam Oliver
Peter Brooks as Brooks
John Zaremba as the Undertaker
Ray Montgomery as the Businessman
Ed Faulkner as the Gambler
Mike Ragan as the Dealer
Jim Barringer as Jeff
Frank Sully as the Bartender
Dave Perna as the 1st Comanchero
Ronnie R. Rondell as the 2nd Comanchero
Ned Romero as Angelo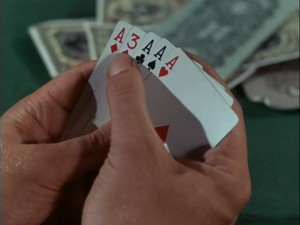 Synopisis: Tranpas wins a huge chunk of money in a poker game in Medicine Bow and takes a trip to New Mexico to the town where he used to live to pay off some old debts and visit his sweetheart he hasn't seen in 5 years. While in town he catches a couple of killers and brings them into jail, only to find out that they are some of the Comancheros who hold the town under their thumb, and that he has poked into a hornet's nest.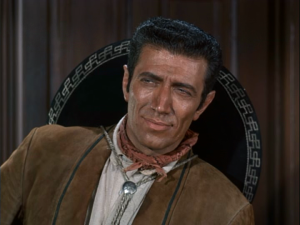 Pedro Lopez, who is the leader of the Comancheros, had promised safety to the town if he and his men where left alone and the townspeople let them use the town as their hideout/safe-haven, he is unhappy when he discovers that his men are being held for murder and demands that they be released from jail or else….
Everyone is bending over backwards to try to pacify him and release his comancheros. Everyone except for Trampas and the Sheriff, which inevitably leads to a showdown…
This show stands out in many ways, but the suburb acting of Doug McClure and all of the other cast members, coupled with good dialogue, and a story that builds tension up to the climax just like a good feature length film are among the main reasons. The story also includes very interesting relationships and characters as well as great moral elements and lessons.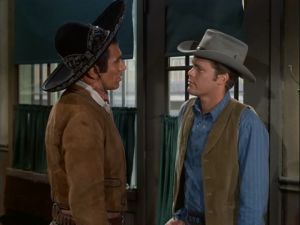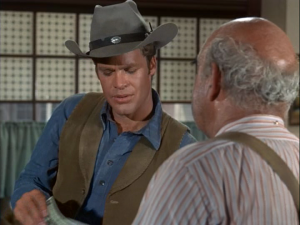 A few of my personal favorites from among the latter are: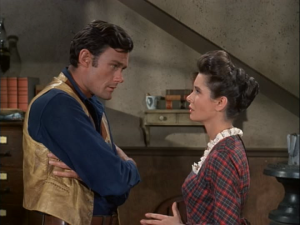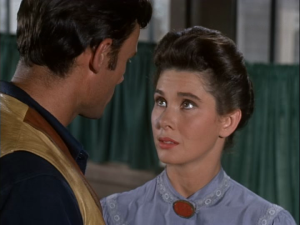 The portrayal that is shown of what a good wife should be for her man, especially during the hard times in his life. Throughout the show the Marshal's wife learns that a wife's duty is to be 100% behind her husband, encouraging him, and supporting him.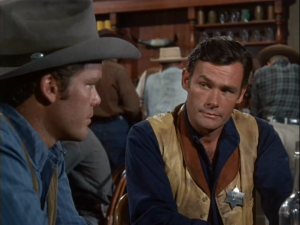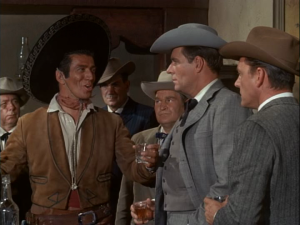 It is a story that contrasts spineless cowards who bow to bullies and dictators, to the brave men, who, however much they hate to do a job and would like to just leave town or take the easy way out like everyone else, but they don't. They do what they have to do. In spite of opposition from friends and family or impossible odds they stand up for what is right. Moral courage is what this show portrays. And that's what I love about it.
This episode shows how one visitor to a town, Trampas, reminded the Marshal of what was his duty just by doing what was just and right his-self, and in turn the two of them inspire the whole town and cause them to be ashamed of their cowardliness and step up and be men. Courage is contagious.
---
One of my favorite lines/moments of the entire show:
"I may not always agree with you, but I know now that that doesn't matter. The important thing is that you know what you have to do, and it's up to your wife to back you up."
~Carole Cole

Do you have a favorite Virginian episode?
---