---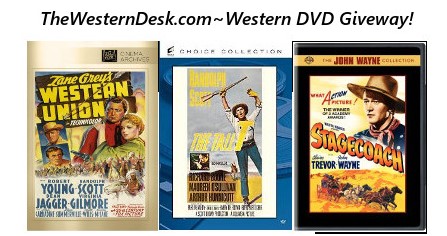 Howdy folks and happy Tuesday! Because I love westerns, and because I just love sharing westerns with people I'm giving away a copy of one of the DVD's above, the winner's choice! All three are great films and each one represents a different decade of western film making: Stagecoach was made in the 30's, Western Union was made in the 40's, and The Tall T is a 50's film.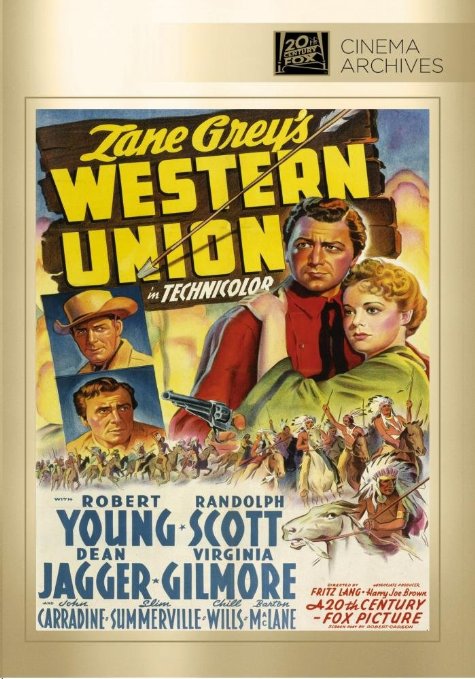 Western Union stars many fine actors including my own personal favorite western actor ever: Randolph Scott.  This film has a great score, nothing like Elmer Bernstein's ineffable scores, but wonderful in it's own way and a perfect fit for the story.
The story is about the boss of the Union Pacific telegraph lines Edward Creighton (Dean Jagger) and the two men who work for him Vance Shaw (Randolph Scott) and Richard Blake (Robert Young), who are vying for his sister's hand. Indian fights, torn loyalties, and bad men struggling to reform and earn the respect of those they admire all add up to 95 minutes of a swell story.
Ohhhhh, and I forgot to add that the color, the color, of this film is fantastic!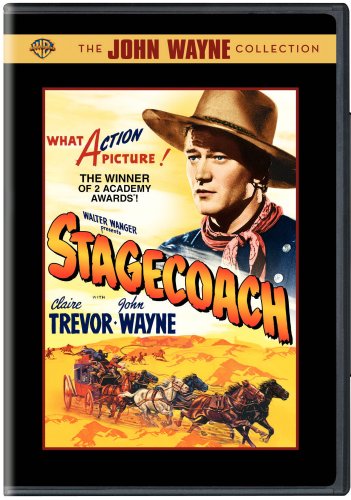 Stagecoach is a well known western, a classic, and stars the most famous A-western star of them all: John Wayne.  Now for anyone who hasn't seen a John Wayne western before let me just insert a word here and tell you that he deserved every bit of the fame he achieved, he is a truly GRAND actor.  This film has been reviewed, critiqued, and discussed endlessly on account of it's being perhaps THE most important groundbreaking film of the western genera. This review by Heidi over at Along The Brandywine is my favorite, and, while it doesn't discuss the huge cultural significance of the film, it is fun to read, full of great screen-caps, and it never fails to make me want to re-watch the film every time I read it 🙂 (Beware; it does contain spoilers!).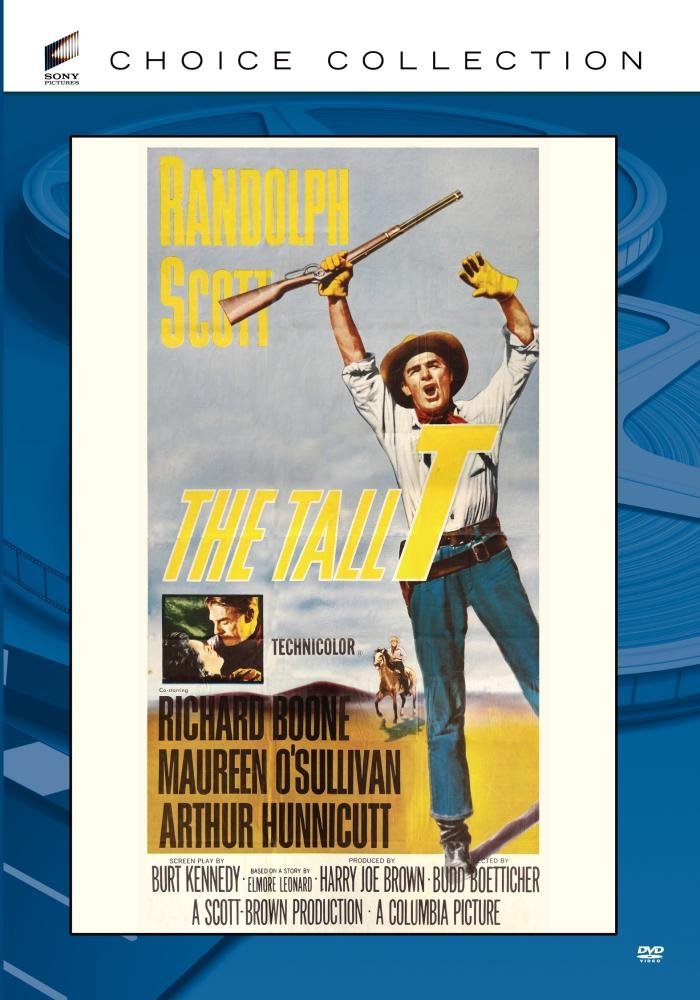 The Tall T is a taunt, incredible well told story of a rancher (Randolph Scott) who is captured by a band of unscrupulous men along with a wealthy heiress that is being held hostage….the story develops beautifully, and is one of those that builds up minute by minute reaching a dramatic climax where everything, literally everything, is on the line.
The dialogue between Randolph Scott and Richard Boone (the leader of the bad guys) is so well done, both men were masters at their craft and played off of each other excellently, it's one of the finest pieces of acting you'll ever watch.  Randolph Scott is at his best in this film, and the role he plays is one of those fine manly men, chock full of charactor that make all of us love westerns so much.
Well, the choice is yours. Go watch the trailers if you like and pick the one you want most! If you've seen any of them before share your thoughts in the comments!
Note: This giveaway is only open to folks living in the United States.
---