---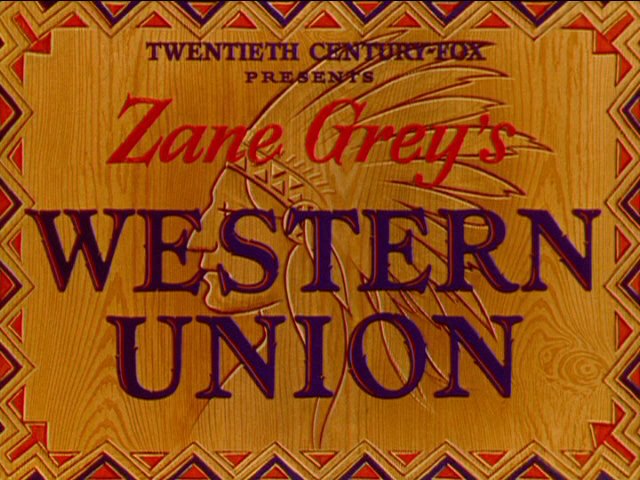 This film is great fun! Based on a Zane Grey novel and starring quite a list of the old timey western actors. It follow the lives of four folks…played by the stars below.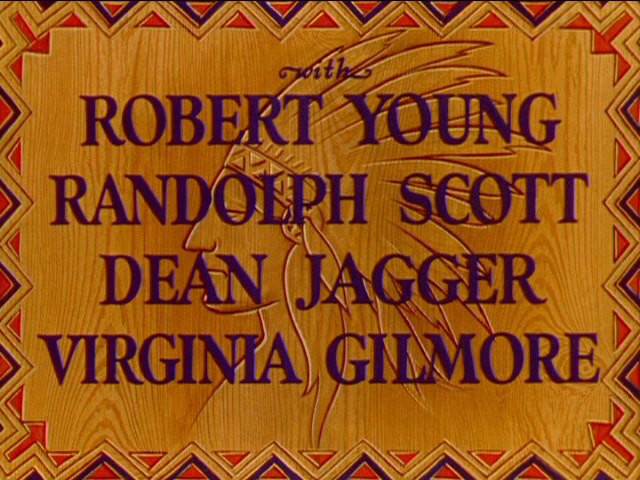 It all starts when Vance Shaw (Randolph Scott) comes ridin' up through grand rocks and an endless blue sky. He is looking all around, keenly observant of the surrounding landscape…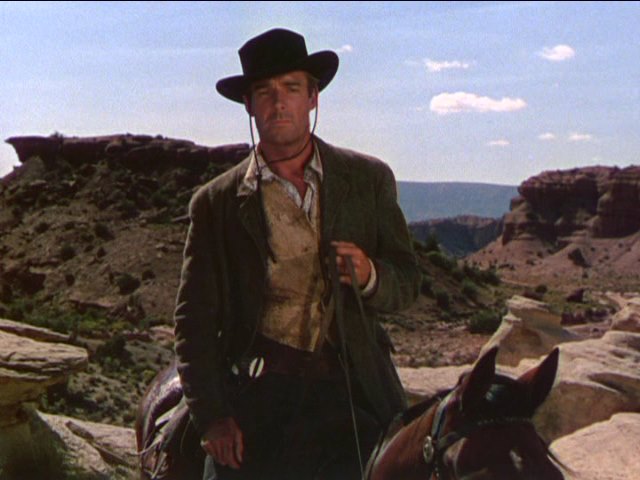 Then he turns in the saddle and catches sight of something…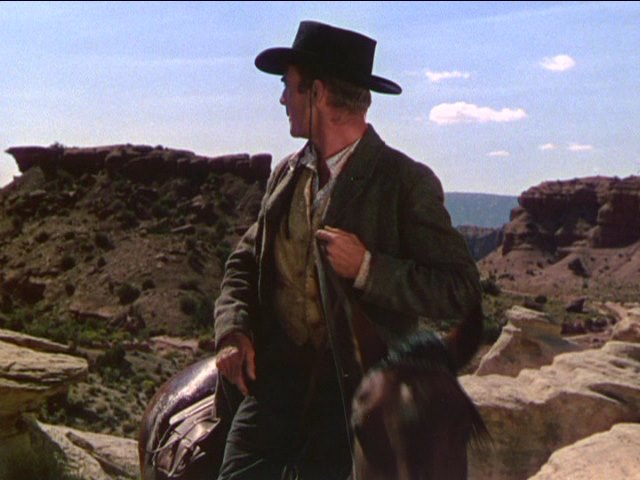 It's a posse, and they are chasing him at full speed.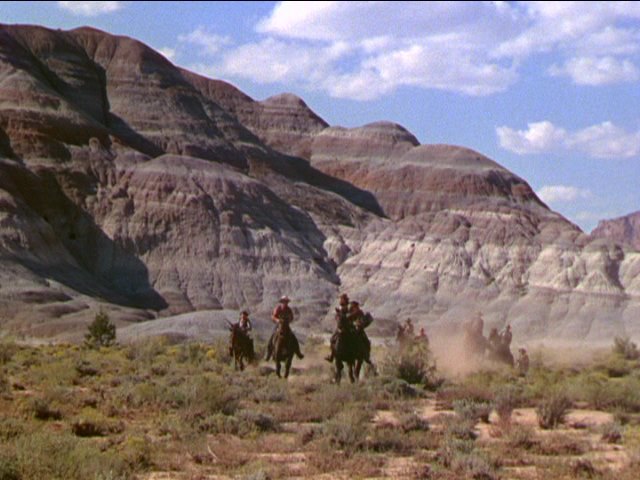 So naturally, he high-tails it out of there through some of the most gorgeous land in the west. The directors really caught some stunning shots in this film!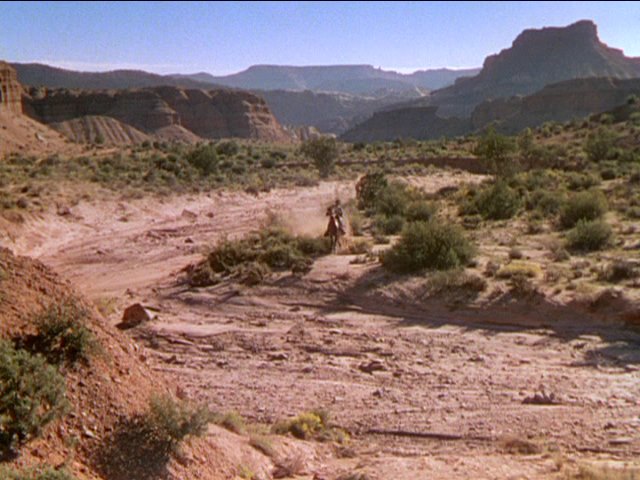 Just as things are looking good for Vance his horse goes lame (don't they always just when you need them!).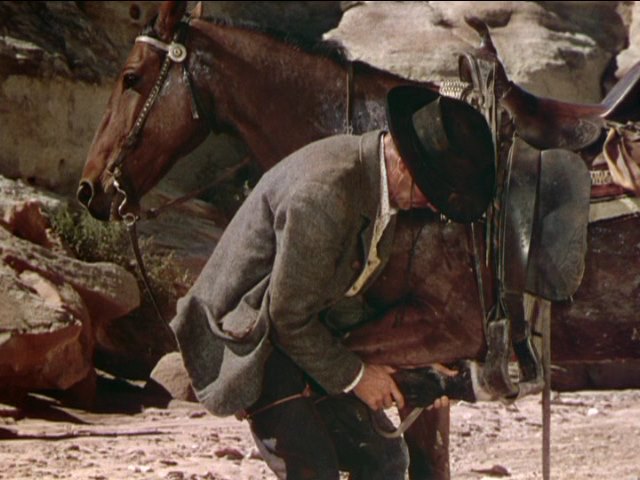 So parting with his horse he sets off on foot trying to make good his escape.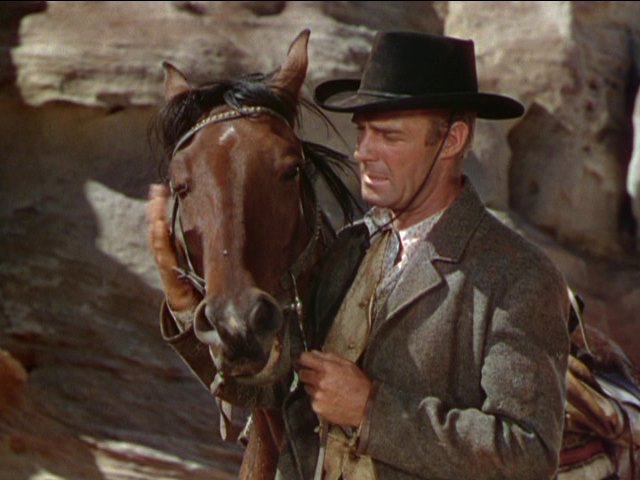 Unexpectedly, and out in the middle of nowhere he stumbles a cross a man with a horse. "I'm sorry, but I'm gonna have to borrow your horse" Vance tells him in his western drawl, and swings aboard to leave. Casting a parting glance behind him, he realizes that the man, Edward Creighton (Dean Jagger), is hurt.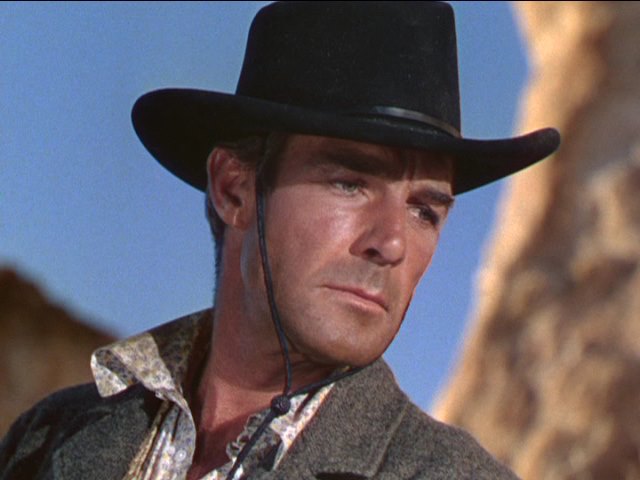 Here is where we get our first glimpse into Vance's noble character and the code he lives by, as he will not ride out and leave a man helpless, even if it means throwing away his chance to escape the law. Yes, he's more than your average criminal. Already the audience is beginning to sympathize with him as he takes the man to the nearest stage stop for doctoring before disappearing into the night…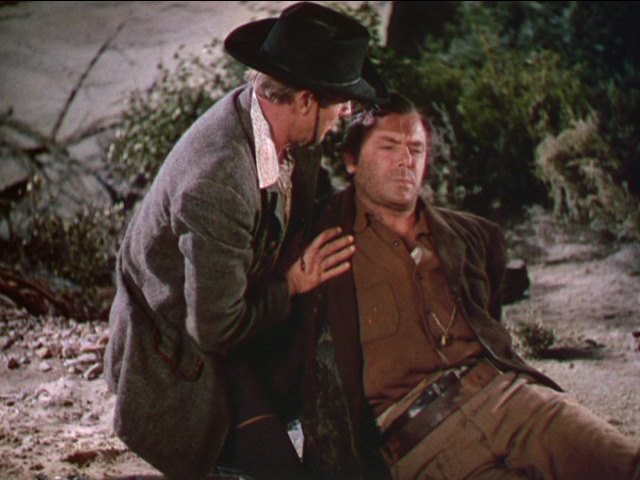 Weeks later Creighton is back on his feet. He makes it to his destination, and starts in on his job: engineer for Western Union.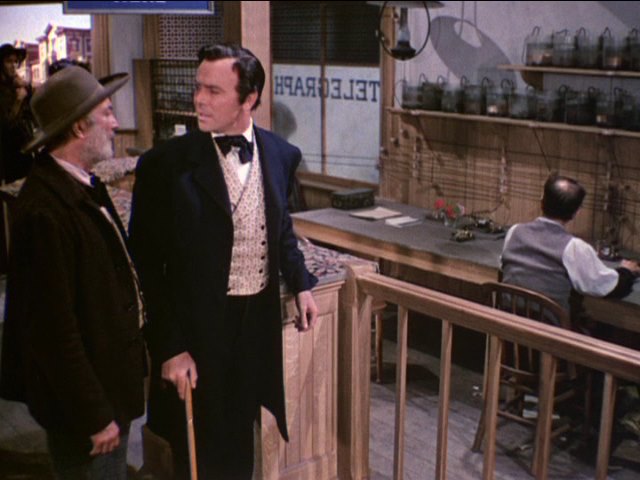 Here is where we meet Creighton's sweet sister, Sue (Virginia Gilmore) who is a telegrapher that works along side him. Their brother-sister relationship is wonderful and it always makes me so happy to see how much they delight in each others company. I just love it!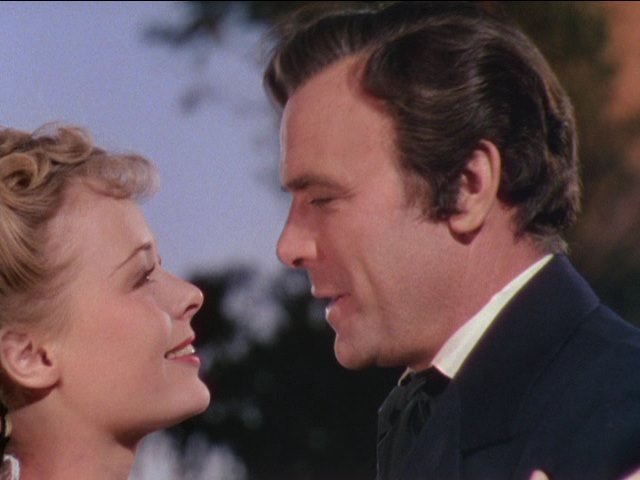 Then Vance, the new scout for Western Union, who has been trying hard to put his past behind him and is trying to keep his true identity hidden, sees Creighton. He knows that Creighton is wise to his crooked past, and therefore dangerous to him.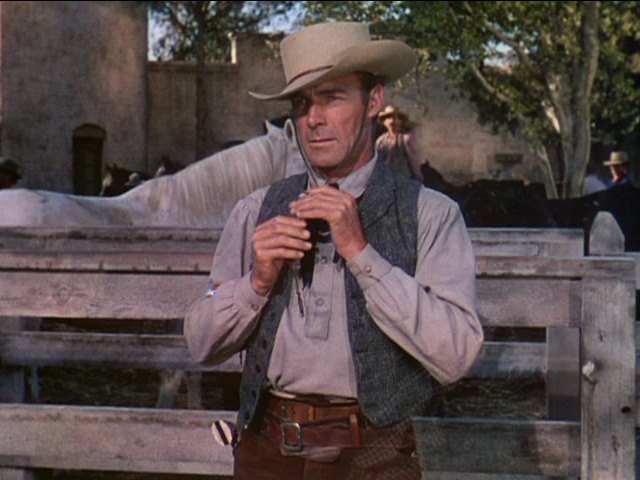 They meet face to face and there is no doubt that each man recognized the other from that day out on the range. Neither mentions it aloud as there are lots of people about.
So Vance packs up quietly in the night and is about to head out, when into his room steps Creighton. Vance pulls a gun. They talk.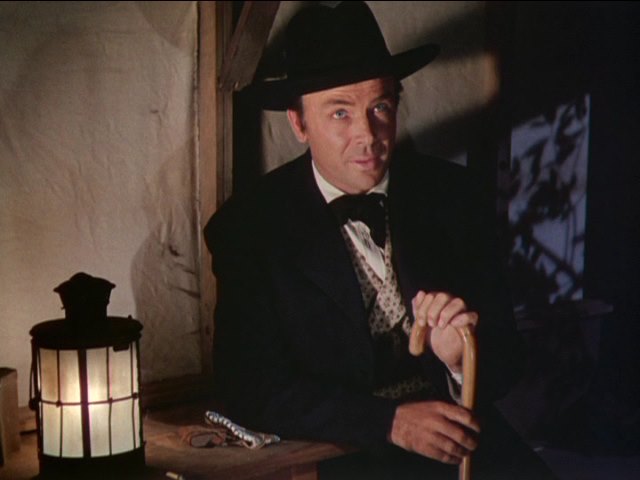 Creighton wants him to stay and lets Vance know that his secret past is safe in his hands (you can see he has a lot of respect for Vance and is trying to help him reform by believing in him and giving him an even chance).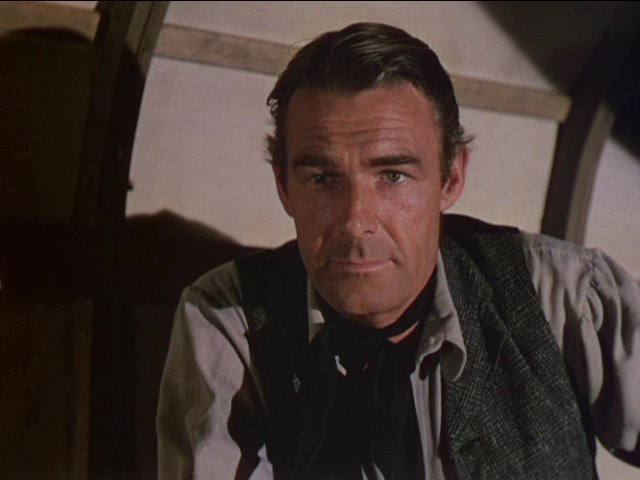 So Vance takes him up on the offer. Struck by his unexpected kindness and puzzled over why a good man is taking so much care for him he watches him walk off, pensive.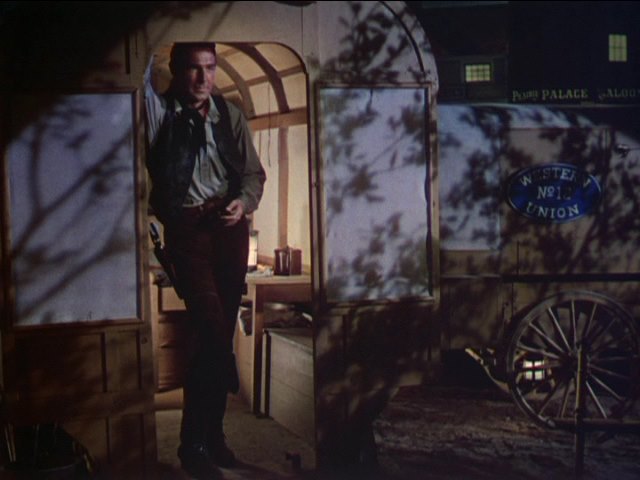 Morning is bright and happy and in walks the last main character: Richard Blake (Robert Young). He is cheerful and full of grins with a blithe and carefree attitude. Robert Young is a swell actor and pulls of his part expertly, I love to see him act!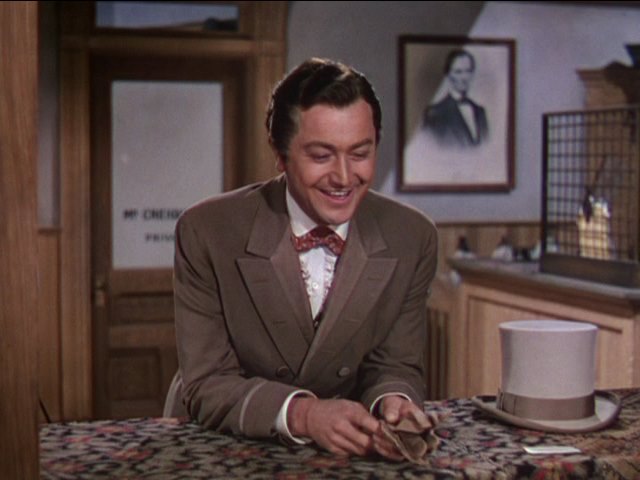 Blake also meets Sue, on his way in to claim his job for the Western Union company.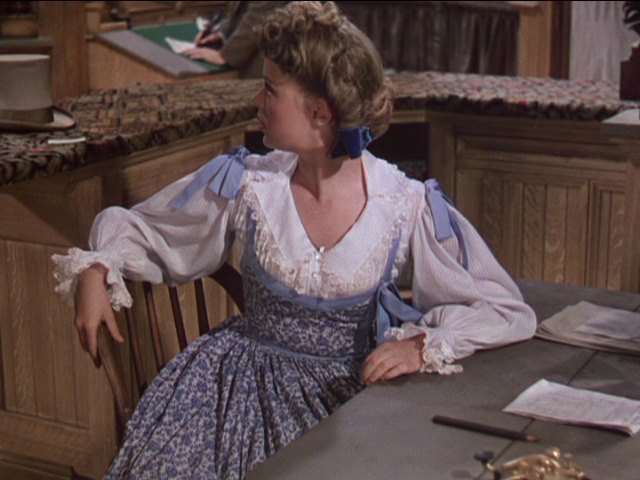 Vance had a high admiration for Sue and is starting to care for her very much.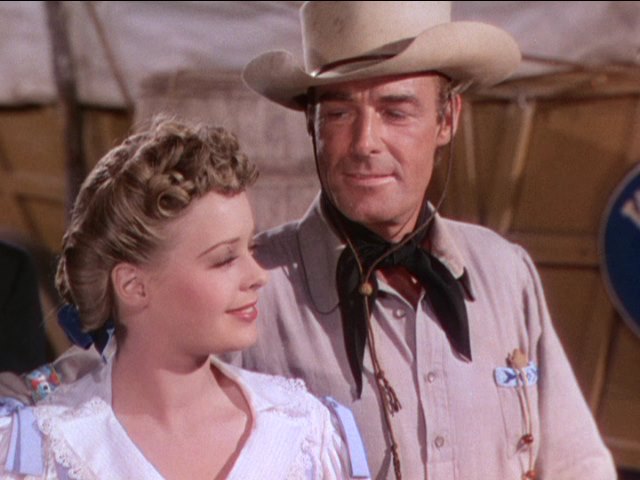 Blake is not far behind him.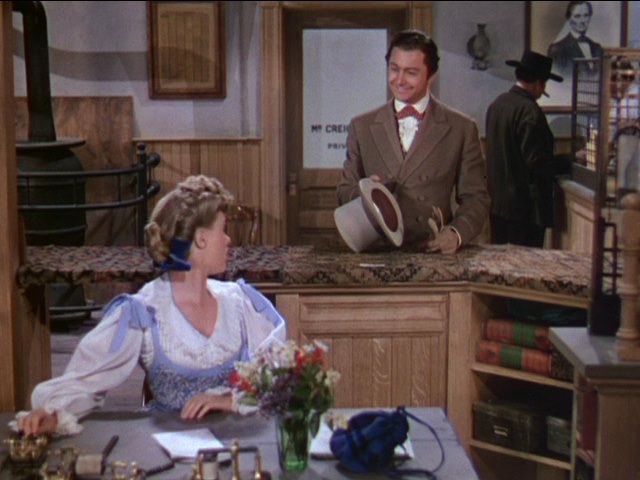 They become friendly, yet highly competitive suitors creating some hilarious moments… 🙂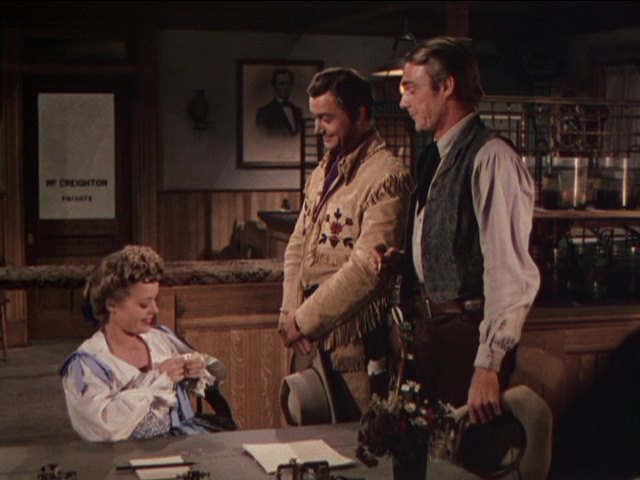 Vance, always striving hard to get the upper edge, yet being very good-natured to his rival even when his plans are defeated.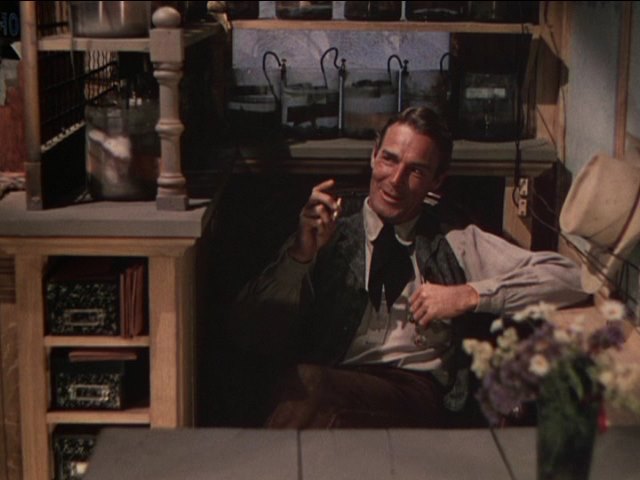 So, there you have them. The four main characters: Creighton, Vance, Sue, and Blake. All of them working together on a common cause.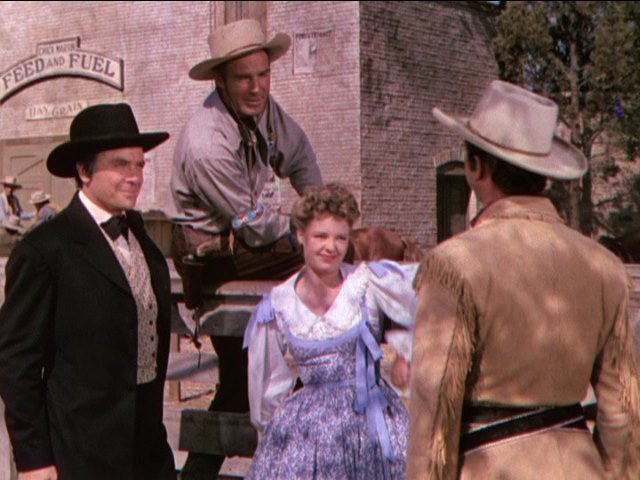 Troubles hit one on top of another and as these interesting folks face them side-by-side. Interesting things are reveled about each one, making a first-rate story.
Fire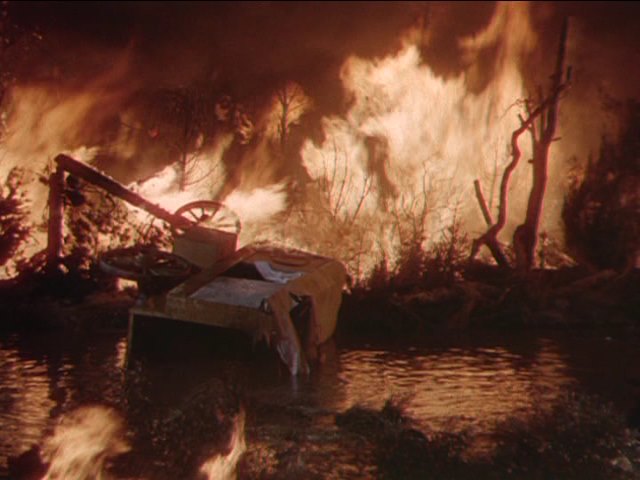 Indian fights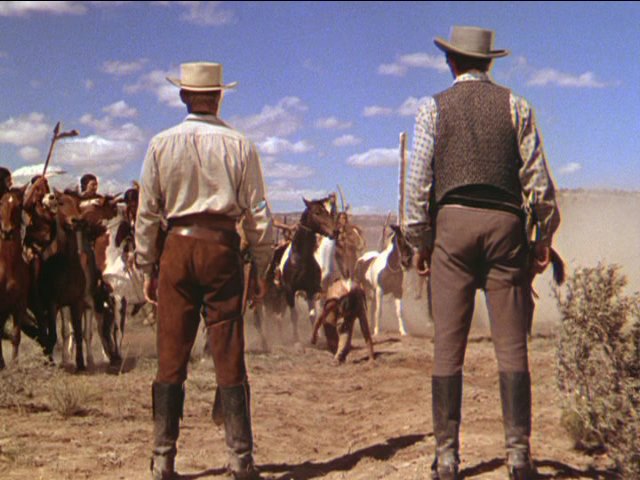 And of course, the deadly, heart-rending (oh, so heart-rending), and climatic gunfight in the streets at the end only add to the action.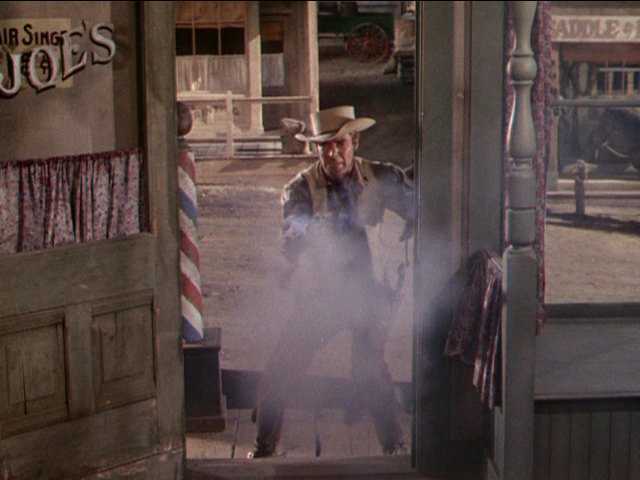 Add to all of that, excellent music that fits the film to a T, Chill Wills as humor, and Barton MacLane as the bad guy and boy howdy, you have yourself a captivating 95 minutes. One of those old great clean films of yesteryear that never made it to the classics list, but is quite a grand performance just the same.
The reception of the film by The New York Times:
"In his review in The New York Times, Bosley Crowther called the film "spectacular screen entertainment" and applauded director Lang's ability to take a "firmly-constructed fiction" and keep it interesting with "plenty of action and colorful incident. "Calling Western Union "one of the finest color films ever seen", Crowther attributes the excellent use of Technicolor for a large share of the film's excitement, producing "breath-taking shots of vast stretches of prairie across which the construction gang is seen drawing its tiny wire". Crowther also singles out the "superior quality" of the acting performances in Western Union writing:

Randolph Scott, who is getting to look and act more and more like William S. Hart, herein shapes one of the truest and most appreciable characters of his career as the party's scout. Dean Jagger is the cool and determined chief engineer of the wire-laying gang—a portrait of the real Edward Creighton which does that gentleman worthy justice. And Robert Young as a 'dude from the East,' Slim Summerville as a terrified cook, Chill Wills as a leather-skinned lineman and Virginia Gilmore as the unobtrusive 'love interest' are just four of a generally excellent cast. "
[1] From Wikipedia; Western Union (film)
Now, here is the good news! I am currently giving away a brand new copy of this film.  The giveaway ends in 5 days so hurry on over and enter!
---